WAYFARE – THE ACT OF JOURNEYING
Our journey together for achieving our goals. 
We match people with technology to create exceptional customer experiences. Our experienced team identifies and applies integrated technologies in new, innovative ways to optimize workflows, minimize business disruption, and deliver results faster. With our expertise, we can re-imagine how your business operates to create new value and a competitive edge. 
We're committed to delivering high-quality solutions that perfectly fit your business needs. No matter what collaboration type you choose, we'll be there every step of the way to ensure your success.
AGILE SELF-MANAGED TEAMS
With our self-managed teams, we encourage leadership and empower team members to work independently while maintaining close collaboration with the other roles from the agile team. 
PROJECT-BASED PARTNERSHIP
We leverage our strong expertise in the full lifecycle of software projects to take requirements and transform them into innovative products using the latest technologies.
TEAM-AUGMENTATION
For team augmentation, we can seamlessly integrate with your existing processes to assist on different projects.
PROGRESS
OpenEdge, CorticonJS, Sitefinity

WEB TECHNOLOGIES
Angular, React, Vue.JS, NodeJS, JavaScript, TypeScript, Java, .Net, PHP, Laravel

CLOUD
Amazon Web Services, Azure, Google Cloud Platform

DEVOPS
Docker, Kubernetes, Jenkins
UI/UX

Figma, XD, Zeplin, Illustrator
Low Code/ No-Code Frameworks
Manual and Automation Testing
We offer comprehensive full-cycle support for software development projects. We can assist you with every stage of the software development process, from conceptualization to implementation and beyond. We will work closely to ensure that our software solutions meet your specific business requirements and goals and we are committed to delivering exceptional experiences throughout the development process.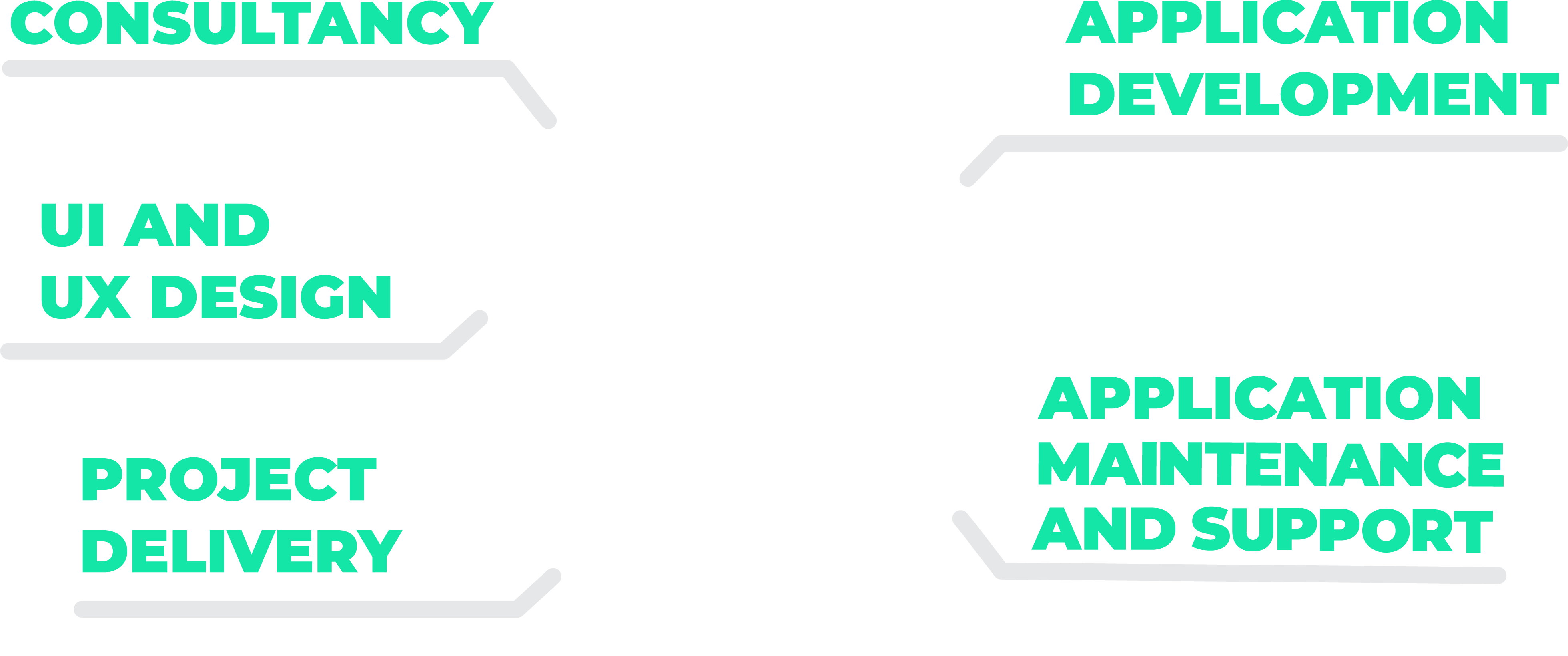 CONSULTANCY
Our consultancy services are tailored to help you achieve your business objectives by identifying unique challenges and proposing the best solutions to meet your needs. We begin every project with a comprehensive assessment and discovery session to gain a deeper understanding of your business. This enables us to propose the best technology stack that aligns with your specific needs. We conduct thorough research and implement a Proof of Concept (PoC) to validate the practicality and effectiveness of our proposal.
PROJECT DELIVERY
We take pride in delivering exceptional project outcomes. We offer comprehensive end-to-end project delivery services, from concept and design to final deliverables for end-users. Our focus is on efficient resource management, effective risk management, and collaboration, ensuring that your project is completed on time, on budget, and to your satisfaction. We understand that the right team setup, with both technical and soft skills, is critical to successful project delivery.
APP DEVELOPMENT, MODERNIZATION AND TESTING
We provide comprehensive application development services that are tailored to your unique business needs, drivers and budgets. Our team of experienced developers brings extensive technical expertise and experience to every project and is committed to helping you achieve your goals. Our focus is on delivering the best software quality, whether you're developing new applications or modernizing existing ones.
APP MAINTENANCE AND SUPPORT
We provide application maintenance and support services to ensure your software solutions are always running optimally. Our team is dedicated to keeping your applications highly available, reliable, and relevant to your evolving business needs, allowing you to focus on your core business. Trust us to ensure your software has an extended lifetime for increased business efficiency.
UI AND UX DESIGN
We craft intuitive user interfaces and innovative user experiences for your digital products and services, helping you maximize your business value, achieve the latest industry trends, and create the best user experiences for your customers. Our team of passionate designers is ready to help you achieve your goals!
OUR process to delivering software solutions
At Wayfare, we have a structured approach to help you overcome your business challenges and accelerate your growth with our comprehensive software solutions. We follow four main stages to assess new collaborations:
DISCOVERY
We begin by identifying your major business challenges and customer needs.
ANALYSIS

We assess your existing project structure and propose a potential technology stack and team structure. We create a prioritized list of relevant items as a first high-level product backlog.
EXECUTION

We execute a proof of concept (PoC) to validate the concepts defined during the assessment. This also serves as "Sprint 0" for setting up the team and collaboration terms. 
EVALUATION

Together, we evaluate the results of the PoC and the level of satisfaction regarding our collaboration. Based on a successful outcome, our collaboration process will flow into the next step: project kick-off.